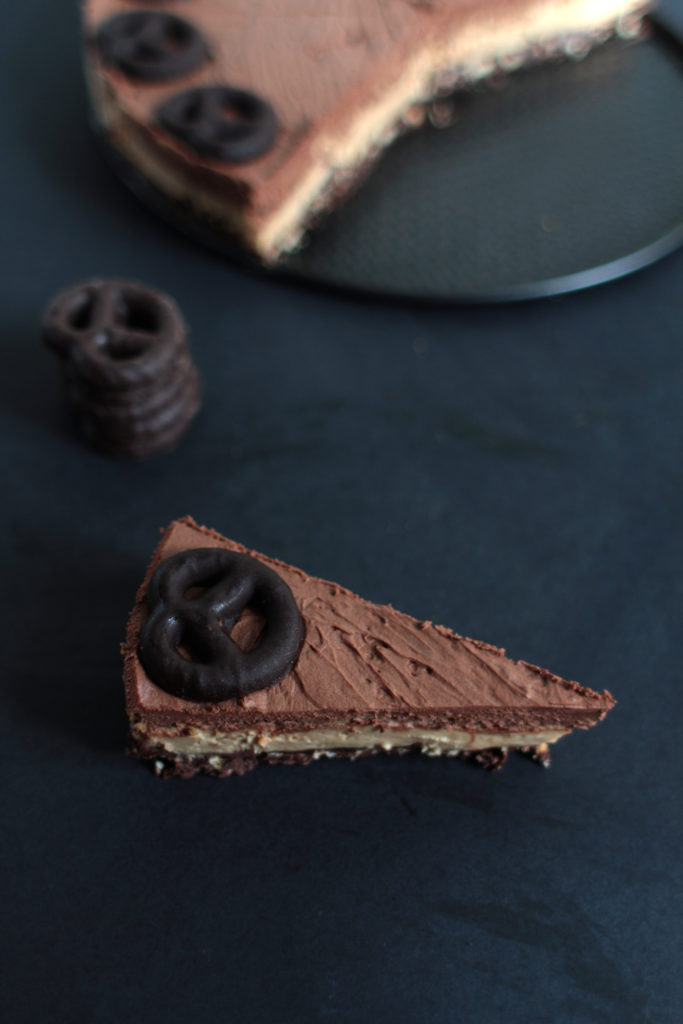 Peanut butter layer cake with chocolate pretzel pastry shell
Ingredients:
1 package dr Gerard Chocolate Pretzel cookies
30 g bitter chocolate
50 g butter
40 g chocolate
Peanut butter filling:
200 g peanut butter
large pinch of salt
250 g mascarpone
250 g mascarpone
250 ml heavy cream
2 teaspoons powder sugar
Krem czekoladowy:
100 g milk chocolate
100 g bitter chocolate
250 ml heavy cream
Directions:
Melt the butter and chocolate in a water bath. Finely crumble the pretzel cookies. Combine the crumbled cookies with butter and chocolate, then pour into a buttered springform cake tin. Close tight and refrigerate.
Peanut butter filling:
Beat the cream into a firm mousse, gently beat the mascarpone until it's fluffy. Add the mascarpone to the whipped cream while mixing the whole time, then add salt, sugar and peanut butter (in that order).
Chocolate icing:
Melt the chocolate and heavy cream in a water bath, then chill and beat like regular sweet whipped cream.
Place the peanut butter filling on the chocolate pretzel pastry shell, then cover with the chocolate icing. Decorate with chocolate pretzels.